Computerized Spinal Decompression at
Arsenault Family Chiropractic Centers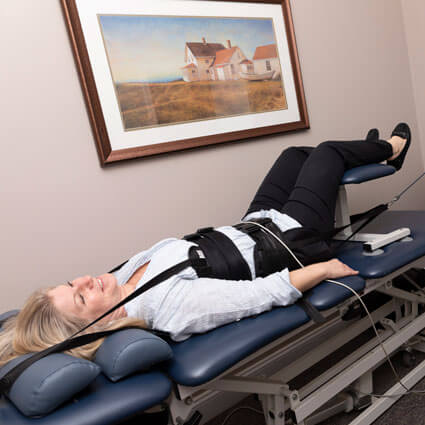 Do you have a herniated disc, multiple herniated discs, degenerative disc disease, facet syndrome, or any other type of spinal problem that you thought needed surgery? Arsenault Family Chiropractic Centers offers non-surgical spinal decompression to help you heal these conditions.
What Is Spinal Decompression?
You may have considered surgery or even have a procedure scheduled at some point in the future. There is another option to consider apart from surgery that may not work, can be dangerous and gives a range of unwanted side effects. Spinal decompression can provide long-lasting relief and permanent correction of your problem. It's comfortable and doesn't cause you any pain. You lie on a table and let it do all the work for you.
A Clinically Proven, FDA-Approved Solution
Spinal decompression is FDA approved and has been clinically proven with an 86% success rate with the pain and symptoms associated with herniated or bulging discs, even after failed surgery. Spinal decompression therapy effectively relieves the pain and disability resulting from disc injury and degeneration by repairing damaged discs.
Many of our patients receive spinal decompression as a stand-alone therapy. Others can benefit from having chiropractic and spinal decompression together. The chiropractic adjustment relieves pressure on your spine so that your spinal discs can begin to absorb fluids and nutrients again. It allows you to maximize the benefits of spinal decompression. If you have both as a part of your plan, you'll receive an adjustment first, then complete your spinal decompression session.
Can You Benefit From Spinal Decompression?
Non-surgical spinal decompression therapy is an effective way to address a range of concerns, such as

Herniated or bulging disc(s)
Degenerative disc disease
Facet syndrome
Sciatica
Post-surgical patients
Spinal Stenosis
After lying on the comfortable spinal decompression bed, you will be fitted with an automatic shoulder support system. This system helps to stabilize your upper body. The advanced computer system automatically adjusts to your specific needs. The spinal decompression computer simulates an anti-gravity effect on your back that helps herniated material return to its normal position and stop the pain. Patients describe the treatment as a gentle, painless, intermittent pulling of your back. Many patients actually fall asleep during treatment!
Patients typically undergo 15 to 40 treatment sessions. Each treatment lasts between 30-45 minutes. This, of course, depends on your case and is determined by a thorough evaluation. Following each session, a cold pack and electric muscle stimulation may be applied to help pain relief and speed the healing process. It is important to note that many patients get substantial, immediate relief after just a few treatments.
Contact Us Today
Learn more about spinal decompression North Hampton and how it may help you. Call our office now! Same-day visits may be available.
CONTACT US »

Spinal Decompression North Hampton, Portsmouth, Exeter NH | (603) 964-1460