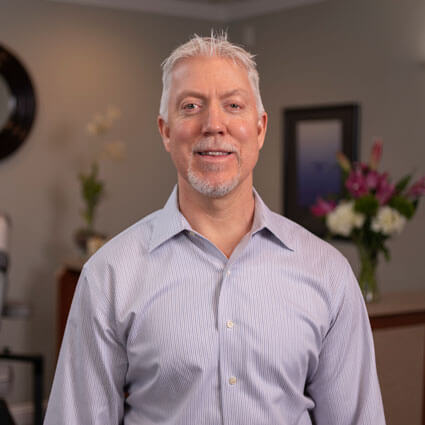 Meet Dr. Mark Arsenault
Three Generations of Healing
Dr. Arsenault is a third-generation chiropractic physician that grew up admiring chiropractic's healthy lifestyle and natural healing. "Some of my earliest memories are listening to my grandfather, uncle, and father all discussing the art and science of chiropractic care. The value of wellness and structural health is not something I learned later in life, but something I have lived and experienced my entire life."
Chiropractic Education
Dr. Arsenault is a 1994 graduate of Palmer College of Chiropractic in Iowa, founded by the father of chiropractic himself, D.D. Palmer. Still amazed at how the body works as a whole, Dr. Arsenault focuses on treating your whole body so it can heal and function as it should.
After graduation, Dr. Arsenault opened his private practice in 1995. "My environment from such a young age assists me in my practice every day."
"I am grateful for the amount of families I get to help by facilitating a better quality of health and life for them. I regularly have rewarding experiences like helping a child who has been diagnosed with hearing loss to hear perfectly again. I also get to return people from pain to pain-free, and I get to see the appreciation and change in their entire demeanor."
I have always had an absolute goal to positively affect the health of as many people as I can.
Eating Healthy, Living Healthy
Dr. Arsenault and his wife, Melissa, focus on eating clean and living a healthy lifestyle. They believe in living holistically.  Dr. Arsenault and his family do yoga, ski, surf, paddle board, play tennis,  hockey and lacrosse. The entire family lives a life of wellness together as a team by staying adjusted, eating well, and staying active. They also stay busy with their adopted rescue dogs. As a family, they regularly support the American Lab Rescue (ALR), and encourage anyone looking for a pet to consider adopting from ALR.
Dr. Arsenault enjoys educating, public speaking and hosting stress and safety workshops to various local businesses and groups. He also offers a new patient workshop in his office every other Wednesday.
Serving the North Hampton community for over 20 years, Dr. Arsenault welcomes you and your family to experience how focusing on health can enhance your lives. Call our office today.

Dr. Mark Arsenault | (603) 964-1460