5-Star Family Chiropractor Serving Hampton For Over 20 Years
Live Your Best Life With Our Advanced Healing
Since 1995 Dr. Mark Arsenault brings relief and wellness care for infants, children, and adults in Hampton with chiropractic solutions to keep you active, healthy and pain-free.
Using a variety of services and cutting edge technology, Dr. Mark Arsenault will customize a treatment plan that gets you quick pain relief and on the path to wellness.
Our goal is to help you achieve your highest quality of life by getting you pain and symptom-free, then helping you stay that way.
Get started with a FREE CONSULTATION – Call (603) 964-1460 or book an appointment now!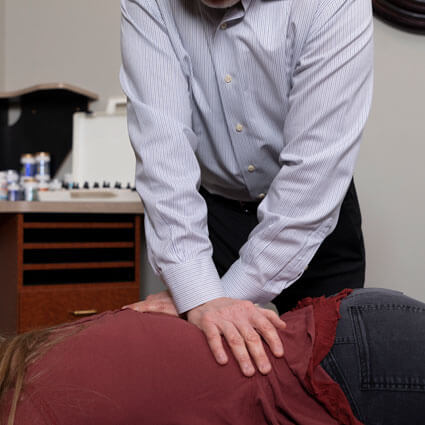 Main conditions for which patients seek our care:
Arm pain
Asthma
Digestive issues
Disc issues
Headaches
Back pain
Migraines
Neck pain
Numbness and tingling
Radiating pain
Sciatica
Allergies
Insurance Is Accepted
We accept several insurances, including Medicare, Cigna, United Healthcare, AllWays, Tufts, Harvard, and Anthem Blue Cross Blue Shield plans. If you do not have coverage or have a high-deductible plan, we can discuss our in-house payment plans with you. These plans are interest-free and divide the cost of your care into equal payments with no extra charges added.
Live Your best life! Get Started with a FREE CONSULTATION now – Call (603) 964-1460 or book an appointment online today!
I trust Dr. Mark Arsenault as he has helped me regain mobility and lessened pain from injuries. He is a positive healing motivator and educator.

Very thorough with understanding the issues before proceeding with treatment. Explanation of what is diagnosed and what is being done to address. Helpful tips for patient care in between visits.

 I am very happy with the professionalism of your staff~along with the wonderful care that I'm getting from you. I feel blessed! 

I was very pleased with the results I received even after the first visit. Looking forward to a healthy and much less pain free life. Thank you, let's keep up the good work!

These guys are fantastic. Professional and extremely knowledgeable. I feel I get an education with every visit. Plus I feel fantastic.

I have been having a great experience and seeing progress in the issues I sought help with. Really happy to be working with Mark!

Very pleased with staff, the doctor and the overall experience so far.

Dr. Mark is the best! I'm 45 and had started chiropractic at 16, long before I met Dr. Mark. He is by far the most talented and knowledgeable I've experienced.

After seeking many other solutions for my headaches and other health issues, I have finally found an office that delivered real solutions! Dr. Mark now sees my entire family, and I cannot recommend them enough!

My neck and back feel better after only a few visits. It really seems to be working.

Dr. Mark is extremely knowledgeable. I have been to Chiropractors before but none cover all of the care and information that Dr. Mark gives. His knowledge of the body and holistic health is far greater than I have seen from others. I have never felt better.
Gentle Family Chiropractor Serving Hampton, North Hampton and Surrounding Areas Since 2005